Chinese President Xi Jinping called for innovation in high-quality development while remaining committed to supply-side structural reforms, buildinga moderatelyprosperoussocietyin all respects and winning a decisive and complete victory in the fight against absolute poverty.
President Xi, also general secretary of the Communist Party of China Central Committee, made the remarks after listening to work reports from officials of the Hunan provincial Party committee and provincial government on Friday after three-day visit in central China's Hunan Province.
In the meeting, Xi began by pointing out the fact that China is still in an important period of strategic opportunities. We need to improve the innovation ability and orderly push forward the optimization and upgrading of industrial structure so as to realize a high-quality development in the industry, noted Xi.
Xi instructed enterprises to firmly grasp key and core technologies in their own hands in order to protect independent intellectual property rights and maintain core competitiveness during his previous visit to a leading company in manufacturing industry.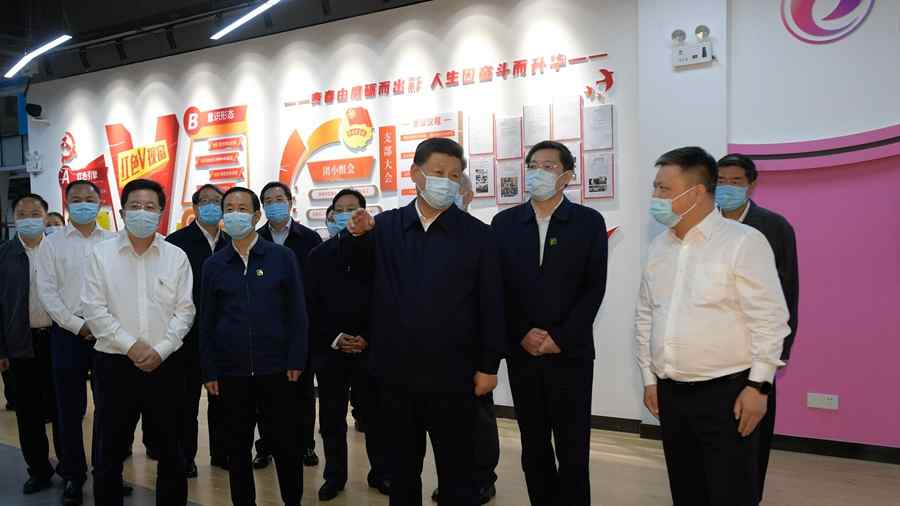 Chinese President Xi Jinping visits a cultural industry park to learn about the development in the sector in Changsha, Hunan, China, September 17, 2020.
Photo by Xinhua
He proposed to give priority to rural development and highlighted integration of supply-side structural reform on agricultural industry and poverty alleviation strategy into the rural revitalization strategy.
Regarding ecological development, the Chinese president reiterated the conviction that "green hills and clear waters are as valuable as gold and silver" while advocating for a sustainable improvement in ecological environment.
Guided by the vision of people-centered development, Xi called on officials to continue to double efforts in education, employment and healthcare in policy-making process.
Noting the long tradition of revolution in Hunan, Xi advised officials and Party members to avoid formalism and bureaucracy andkeep inclosecontact with the masses.
During his three-day inspection, Xi visited Shazhou Village, a previously impoverished village located in a mountainous area in Rucheng County, Chenzhou City as his first stop to learn about poverty alleviation progress there.
He then checked the innovative development of a manufacturing company and a cultural industry park in Changsha.
Xi met with teachers and students in Yuelu Academy at Hunan University where he urged students to live up to the times and be ready to devote themselves to serving the motherland.
来源:cgtn
编辑:谭婕倪