A village of the Miao ethnic group in central China's Hunan Province has set a model for the nation's targeted poverty alleviation efforts. It is the mountainous village of Shibadong, a village that was once so notorious for its destitution but has now become an illustration of China's historic campaign to eradicate poverty by 2020.
Shibadong, located in the remote mountainous county of Huayuan in the Xiangxi Tujia and Miao autonomous prefecture of Hunan, used to be a poverty-stricken village with little arable land and an inadequate transportation system.
In November 2013, during an inspection tour of Hunan, Chinese President Xi Jinping visited Shibadong Village. It is here where he first put forward the concept of "targeted poverty alleviation."
This concept of tailoring relief policies to different local conditions has become a guiding principle in China's fight against poverty.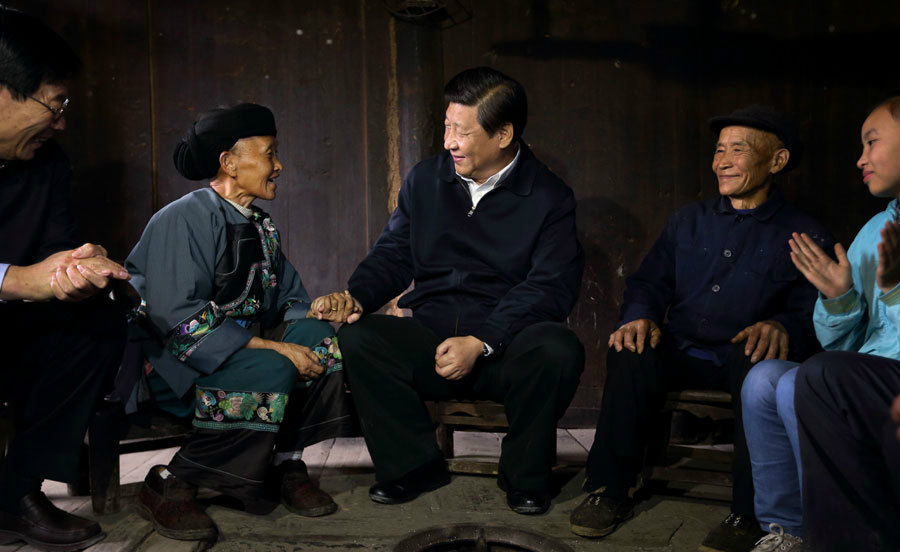 "Targeted poverty alleviation" was first proposed by President Xi Jinping when he visited Shibadong Village, central China's Hunan Province, in 2013. (Photo/Xinhua)
Shi Pazhuan, a villager who was then 64 years old, welcomed President Xi into her home on the day of his visit. "What should I call you?" Shi Pazhuan asked Xi while not recognizing the person in front her because she didn't have a television at the time. Xi introduced himself as a "servant of the people," held her hands, and called her "Dajie", known in Chinese as elder sister.
In 2014, a poverty alleviation work team formed by the county government came to the village. Utilizing local conditions and natural resources, Shibadong has put a huge effort in developing rural tourism with its picturesque natural landscapes and booming agricultural plantations. Its tourism industry is now the biggest contributor to Shibadong's anti-poverty campaign, with villagers operating restaurants, others running family inns, while some working as a tour guide, or selling local specialties to tourists.
"We have beautiful views of the valleys as well as abundant ecological resources such as the eighteen caves, a landmark scenic spot after which the village is named (Shibadong means eighteen caves in Chinese)," said Shi Jinlan, deputy general manager of Shibadong Rural Tourism Co., Ltd, who works as a tour guide himself for visitors to Shibadong.
There's also the diverse Miao culture to experience in Shibadong. Visitors can behold Miao stunt performances like "Climbing the Knife Mountain and Diving into the Fire Sea" as well as the Beginning of Autumn Festival, all visually exhilarating experiences.
Last year, the village received more than 300,000 visitors and made tourism revenue of over 3 million yuan.
Villagers embroider their way to wealth
43 year-old villager Shi Meimei learned Miao embroidery from her mother when she was 12. For the last 30 years, she has been maintaining the skill, a traditional craftsmanship that not only preserves Miao people's cultural inheritance, but has also greatly contributed to the local poverty alleviation campaign.
Miao girls traditionally learn how to embroider from female family members from as early as the age of 5. And they start embroidering full-time from the age of 12, making clothes, shoes and bed linen for their dowry when they marry.
"We embroider flowers, butterflies and birds on the clothes. Aren't they beautiful?" Shi asked while pointing at a flower pattern on her Miao costume.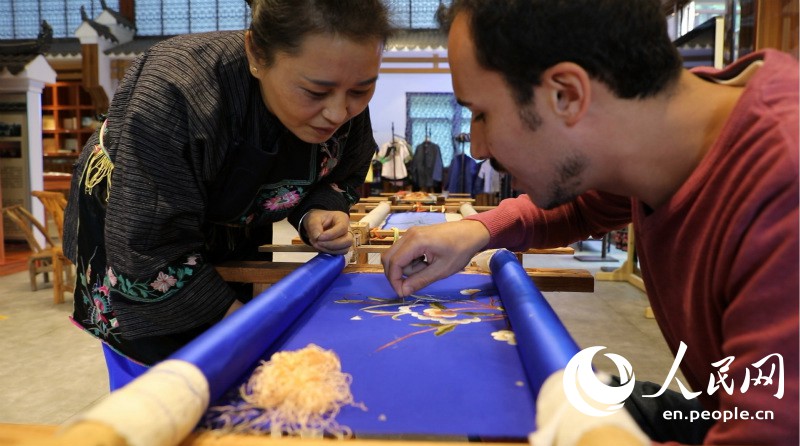 People's Daily Online's Jeffrey Moeller(R) learns the craftsmanship from Shi Meimei(L). (Photo: Yuan Meng/People's Daily Online)
Shi recalled her childhood memory of embroidery. Back then, her mother could sell her embroideries for only a few yuan a piece at the market. "1.5 yuan a piece, 2 yuan at most," Shi said with disbelief of the low price compared to nowadays.
In 2019, the number of visitors to Shibadong is expected to reach 400,000. The village's Miao embroidery products have received more and more orders, as a result. In return, Shibadong's Miao embroidery shop has also become a must-see spot for tourists who come to visit.
"When tourists come and see the embroidered flower patterns on our clothes, they find them very colorful and couldn't help bringing home," Shi said.
The village established a Miao embroidery cooperative in 2015, with over 50 women from the village making and selling the products. Now they receive orders with a total worth of over 100,000 yuan each year, granting Shi an annual income of around 3,000 yuan.
"We shook off poverty because of it and have earned ourselves a good living now. Life is difficult no more," Shi said with a smile on her face.
From bitter to honey sweet: a beekeeper's road out of poverty
With its rich natural and agricultural resources, Shibadong also demonstrates many possibilities for the development of various village industries.
The given resources and local conditions enabled 32-year-old Long Xianlan to learn the art of beekeeping. He now owns his own beekeeping company and has even registered a trademark for his honey products.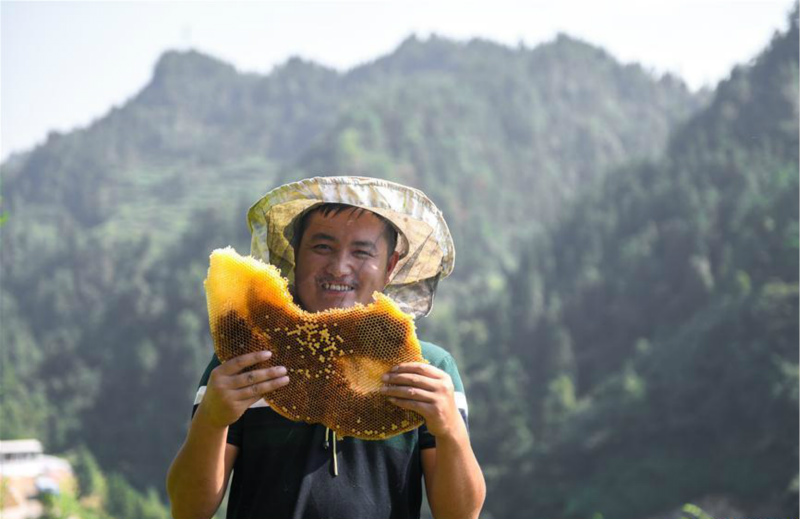 Bee keeper Long Xianlan shows a honeycomb at a nectar source in Shibadong Village. (Photo: Xinhua/Chen Zeguo)
But his past painted a very different picture.
He was orphaned at a young age. "My dad passed away. My mom got remarried. My sister was also gone. At that time, I thought God was unfair to me," Long stumbled.
Without any direction in life, Long became an alcoholic.
"I drank alcohol wherever I could find it. Then I got hungover and slept wherever. That's how I spent my youth," Long said. "Villagers saw me like my life was done for, and I would be a drunkard for the rest of my life."
Things started to change for Long a few years ago. With the support and encouragement of the villages' poverty alleviation work team, Long developed a solid business plan.
"We encouraged Long to make a living from beekeeping, and we offered to provide support, including the training he required," said Long Xiulin, the head of the alleviation work team at the time.
Through observation and constant learning, Long Xianlan became interested and dedicated to his new profession. Trying his hand at his first sale, he sold 5 kg of honey in two days, which earned him 1,200 yuan. With the income, Long saw hope and gained more confidence in keeping bees.
"I saw the bees work hard to collect pollen, even before sunrise and at nightfall. I thought I should learn from them," Long said.
In 2015, Long Xianlan met his wife at a blind-dating event organized by the village committee, and they married in 2017. He said that, in the past, women were not willing to marry men from the village because they were so poor, but since he had found a good job, he was no longer deemed a "loser".
In 2018, Long's honey output was over 1,000 kilograms, granting him an income of nearly 300,000 yuan. He said this year's yield is expected to sell for over 500,000 yuan.
"It's the bees that rid me of poverty and helped me find the love of my life," Long said with joy.
来源:People's Daily
编辑:尹曾祺