The coming of autumn is harvest time for Hunan province. This can be seen in the ripe fruits that adorn the tree branches in the kiwi center of Shibadong village.
Shi Jintong, the village's Party secretary, said: "This year is a bumper year again and we expect to harvest about 350 metric tons of kiwi fruit."
Shi is a witness to great changes in the village. People had been troubled by three things for generations, Shi said.
They were concerned that inconvenient transportation wouldn't allow them to transport the pigs they had raised out of the village. They feared that their children could not afford to go to university and that their family members could not afford hospital visits.
A few years ago, the province assigned a team to help villagers consider what they can plant and breed to increase their income. They began to develop countryside tourism, agritainment, kiwi fruits and mountain spring water.
Infrastructure and public services were improved, and all the villagers were lifted out of poverty in 2016.
The per capita income of Shibadong increased from 1,668 yuan ($231.69) in 2013 to 20,167 yuan in 2021.
Many villagers who had gone to other places to work came back and made a living by embroidering, offering homestays, working as tour guides and running e-commerce sites.
Changes in the village are an example of Hunan's pursuit of prosperity and rural vitalization and an epitome of rural reforms in China in the new era, local media reported.
All 6.82 million impoverished people in Hunan's rural areas were lifted out of poverty in the past decade.
Compulsory education for children, basic medical care and drinking water safety were guaranteed.
Many of the residents have become wealthier as they developed characteristic industries. Some moved to other areas which can offer better conditions and thus lead to a better life.
A homestay in Nanyueping village started to welcome guests on Aug 4. Chen Qiuyang, its owner, cooked delicious food for the first visitors.
Chen said: "I dared not dream 10 years ago that I could open a homestay in the remote mountains."
The village is more secluded than many other areas in Xiangxiang county. Chen Xiadong, an official in the village, said that a decade ago, there were no paved roads. The earth roads were winding and filled with holes and it was hard for tractors to reach there.
The electricity was not stable and there were no industries, Chen Xiadong said, adding that young people chose to earn money outside the village.
As roads there have improved, coaches can be driven to the villages. The electric grid has also been upgraded. A few young people have returned and started businesses.
Chen Qiuyang first opened a factory making sweet potato vermicelli and led villagers to build a cement road extending 5.4 kilometers.
Many villages like Nanyueping in Hunan have changed greatly, and the resident's sense of happiness has increased noticeably.
Zhu Youfangcontributed to this story.

The view in Xiangxiang county, Hunan. CHINA DAILY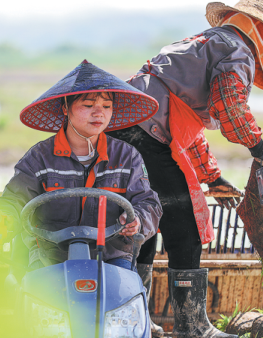 Zhu Xia, head of Taijiu village in Hunan, harvests crops with local farmers. CHINA DAILY
来源:China Daily
编辑:尹曾祺