Editor's note: In the run-up to the 19th Communist Party of China National Congress, China Daily sent six reporters to live for a month in poor villages to see how China's poverty eradication plan is improving people's lives.
While nearly all young people in Shibadong village leave home seeking higher incomes in cities, 31-year-old Long Xianlan was one of a handful who returned to earn a living locally.
Shibadong, located in the remote mountainous county of Huayuan in the Xiangxi Tujia and Miao autonomous prefecture of Central China's Hunan province, is home to members of the Miao ethnic group.
It used to be a poverty-stricken village with little arable land and a poor transportation system, but things began to change a few years ago.
In 2013, President Xi Jinping visited the village and called for the implementation of measures to help pull villagers out of poverty, which encouraged Long to return home in 2014.
"You can't be a migrant worker forever," Long said. "It's better to return and map out a long-term business plan."
He began selling fish, but due to his inexperience, his efforts were unsuccessful.
However, with the support of a poverty alleviation work team formed by the county government, Long developed a solid business plan.
Growing up, he watched senior villagers maintain beehives, and his grandmother used to prepare a small bottle of honey for him during the Spring Festival holiday.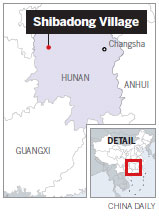 "We suggested Long make a living from beekeeping, and we offered to provide support, including the training he required," said Long Xiulin, the head of the alleviation work team at the time.
After attending a free two-week training course on beekeeping, Long Xianlan started maintaining four hives in late 2014.
At first, he required help from his trainer to solve problems he encountered, and he spent most of his spare time studying his new profession.
"I learned mostly through trial and error," said Long Xianlan, who also asked senior villagers about traditional beekeeping methods.
"Beekeeping is not tiring work. The most important thing is to pay close attention to the bees and maintain the hives properly."
Long Xianlan has now become a major local beekeeper, increasing the number of hives he maintains to 60. Last year, he sold his entire harvest in five days through online advertising and recommendations by friends and old customers, earning about 20,000 yuan ($2,920).
This year, Long Xianlan plans to move his hives to a bigger open area in the village, where he can plant flowers and will have space to double the number of beehives he maintains.
The rapid growth of honey sales led him to establish a beekeeping cooperative in the village at the end of last year, with the number of families taking part increasing from five to 12 in just six months.
Cooperative members manage their own hives, while Long Xianlan passes on his skills and knowledge to help them with honey sales.
"I will invite more villagers to join the cooperative, as demand outweighs supply," he said, adding that the high-quality honey made from using traditional beekeeping methods enables him to sell it at a higher price.
Long Xianlan had worked in an auto parts factory in Ningbo, Zhejiang province, for six years before returning home. He was earning nearly 3,000 yuan a month, but it was hard to save money due to the high living costs, he said.
"Although my income level is still lower than that of migrant workers in the cities, I am confident that I can catch up with them in one or two years, and I can continue to expand my business."
In 2015, Long Xianlan met his wife at a blind-dating event organized by the village committee, and they married last year.
He said that, in the past, women were not willing to marry men from the village because of their poverty, but now people's incomes have increased, a number of men have found wives in the village.
Long Xianlan and his wife also grow vegetables and run a small roadside shop near their beehives. They even produce smoked meat products to sell to tourists, which earned them more than 10,000 yuan last year.
"I believe more young people will return to the village," he said.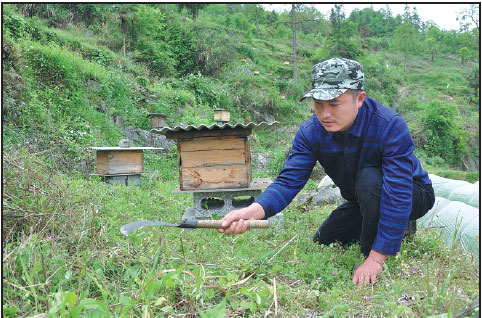 Long Xianlan removes weeds from land on which he plans to plant flowers for his bees.Liu Xiangrui / China Daily
来源:China Daily
编辑:尹曾祺