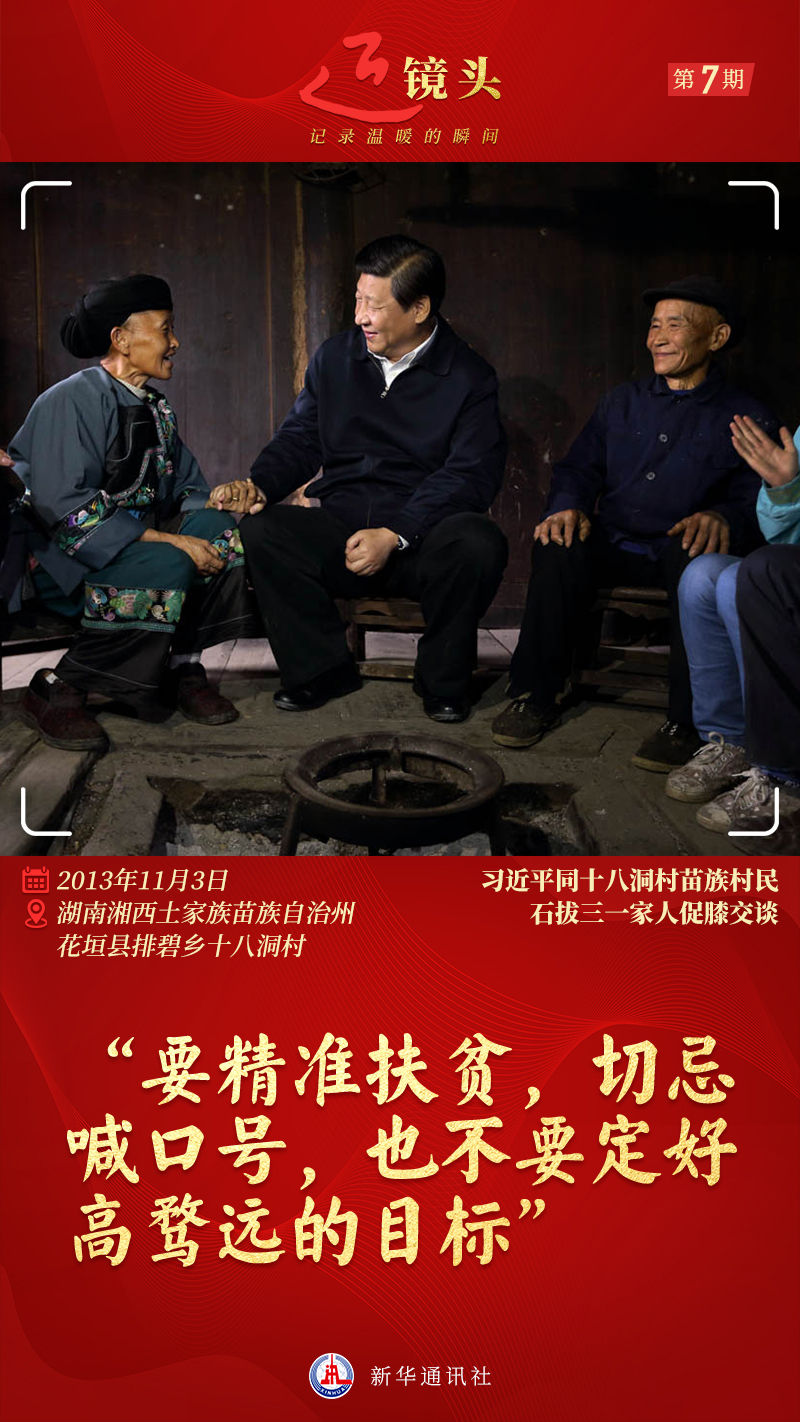 Deeply nestling in the Wuling Mountains, Shibadong Village, with its stone paved pathways and scattered wooden houses, is waiting for touristsin this bright and warm spring. .
Shi Basan, a Shibadong villager,is now standing in front of herhouse, looking around with a big smile. In the middle of the central room hangsan old photo.
During the eightyears of battle against poverty, this once isolated and backward Miao village hidden in a remote valley, has become famous both at home and abroad. It was right in this place that general secretary of the Chinese Communist Party Xi Jinping put forward the idea of "targeted poverty alleviation". Like many other impoverished villages in China, Shibadong Village has experience dramatic changes.
The story begins with that photo.
"How shall I call you?"
"I am a servant of the people."
"I'm 64 this year."
"You're a bit older."
In the photo, Xi and Shi Basan were holding hands. This simple conversation impressed everyone present.
On the afternoon of November 3, 2013, General Secretary Xi Jinping paid a visit to Shibadong Village, Huayuan County in the Xiangxi Tujia and Miao Autonomous Prefecture of Central China's Hunan Province. He went there to see more of the real poor villages and know more of the living conditions of the villagers.
Despite its picturesque natural landscapes, Shibadong Village was a typical poverty-stricken village at that time. It was located in a contiguous poverty-stricken area, with limited access to transportation and little arable land per capita, and its people's lives had long been below the poverty line.
"We built a new road with the help of the Hunan Ethnic Affairs Commission so that General Secretary Xi could get into the village with more ease."said Shi Jintong, the village Party secretary.
When Xi visited, Shi Basan's family lived in a dark house, and their only electric appliance was a 5-watt light bulb. Her two daughters got married and moved to other villages, and her husband Shi Qiwen had been ill for years.
"We're so poor that we can't even afford a TV, so I didn't at all recognize him. Never would I have expected him to be our general secretary."Shi bashfully recalls. Back then she could only speak the Miao language and wasn't talk ative. But Xi kindly heldher handand wentinto her small wooden house. He opened the lid of the rice container and asked if there was enough food to eat, and went to the pigsty to see if the pigs were healthy.
After leaving Shi Basan's home, Xi went to visitthe couple ofShi Chengfu and Long Decheng. In the courtyard, Xi sat together with the villagers, listening and asking questions. He adopted an analogy when talking about the ways to get rid of poverty and improve the people's livelihood - "We cannot use a grenade to get rid of fleas."What truly needed to be done was create a file for each household to accurately find out the causes of poverty. In fighting poverty, we should refrain from empty slogans and un attainable goals, but do one thing at a time.
With regard to such problems as geographic barriers and an acute lack of male labor force facing Shibadong Village, Xi came up with some suggestions:"It's better for you to keep some livestock. Each family canraise a few black pigs, an ox and a couple of goats. This can be done easily."This to-the-pointand pragmatic solution was supportedby all the villagers.
In this talk, Xi formally proposed the"targeted poverty alleviation"strategy, which has since served as the guideline for poverty alleviation in China. Targeted poverty alleviation can only be achieved by seeking truth from facts and adjusting poverty reduction measures to actual local conditions.
A long and far journey is no longer fearsome if the right direction has been found.
Targeted poverty alleviation strategy had really worked for Shibadong Village. In accordance with Xi's important instructions, the village had established a standardized and procedural mechanism to accurately identify the poverty alleviation targets, builtplenty of roads and developed industries with distinctive local characteristics. Within merely three-oddyears, the whole village had been lifted out of poverty.
The transformation of Shibadong Village is a microcosm of the whole targeted poverty alleviation campaign. In the past eight years, nearly 20 million people have been sent to villages and households, and the work of dynamic management and information collection of the poor population has been carried out. More than 250,000 work groupshave been stationed in villages, and more than threemillion officials from units above the county level have been dispatched to villages, so that each household is paired witha person responsible for the eradication of their poverty and each village witha support team. The strategies of"six precise measures"and "five batches", have been implemented according to local conditions.This poverty reduction campaign is so successful that it has miraculously lifted nearly 100 million Chinese people out of extreme poverty.
Xi has been thinking about the villagers since he left Shibadong Village. During the "two sessions"of 2016, Xi smiled happily upon hearing the news from the Hunan delegation that Shibadong Village had experienced tremendous changes. The villagers' income had increased,and many young men had found themselves a girlfriend or bride.
Now, Shi Basan has learned some simple Putonghua, or standard Mandarin, and joined the localart group. "I eat well, dress well, and live happily. I'm looking forward to seeing the general secretary again sometime!"said she.
来源:Xinhuanews
编辑:金钰伦