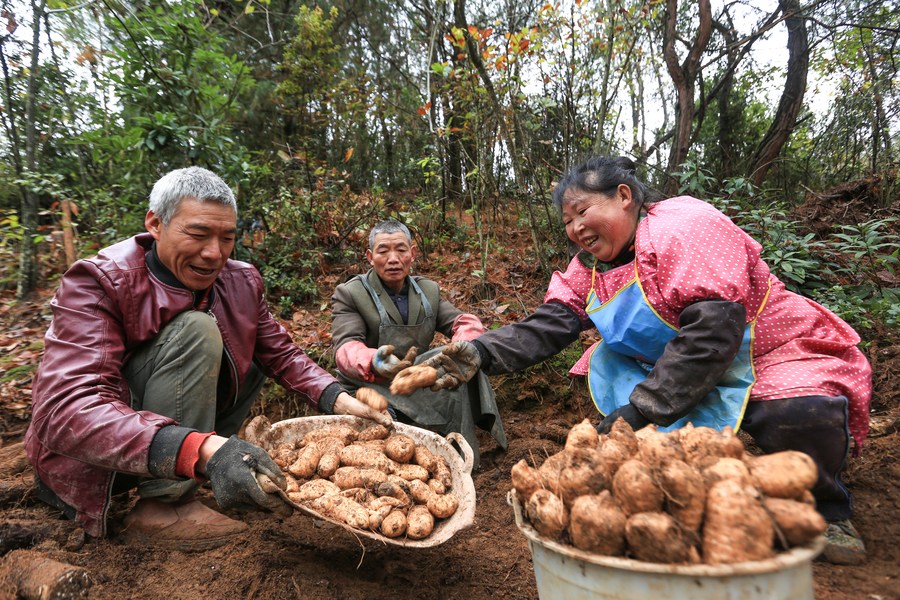 Wu Daoyuan (L), who has a disability in left leg, collects gastrodia elata with villagers at Qixingguan District of Bijie City, southwest China's Guizhou Province, Dec. 3, 2020. Photo by Wang Chunliang, Xinhua
China's targeted poverty alleviation efforts have played an effective role in helping its disabled people out of poverty, with supportive measures covering almost all of the 85 million people with disabilities.
At a press briefing on Friday, Xie Hongde, head of the office of poverty relief at the China Disabled Persons' Federation, introduced China's efforts in eradicating poverty for the disabled over the past eight years. The targeted supporting measures include subsistence allowance, concentrated nursing services and employment guidance, Xie said.
Three representatives of this vulnerable group shared their experiences of shaking off poverty at the press conference, providing a vivid account of China's resolute struggle to bring all those with disabilities out of poverty this year.
Xin Baotong, a 33-year-old man in a wheelchair from northwest China's Ningxia Hui Autonomous Region, has run an online shop for local specialties such as coarse cereals and Chinese medicinal materials at the e-commerce platform Taobao since 2018.
Within less than two years, his shop has generated more than 23 million yuan (3.5 million U.S. dollars) worth of agricultural and sideline products, of which 1.86 million yuan has been shared as dividends among 2,390 poor people with disabilities in his hometown of Longde County.
First put forward in 2013, the concept of targeted poverty alleviation, under which relief policies are designed to suit different local situations, later became a guiding principle in China's fight against poverty.
Xin's career never came easy. In 2015, a work accident left his father paralyzed, adding salt to the wounds of this poverty-stricken family. The disabled persons' federation of Longde relocated the Xin family to the county's nursing center for the disabled, in a bid to ensure their basic livelihood.
The center was established by the county government of Longde, the local disabled persons' federation and a county in east China's Fujian Province that paired up with Longde to help bolster its poverty-relief work.
The center provides not only accommodation, rehabilitation and caring services for free, but also job-seeking assistance, which has rekindled the dreams of the nearly 100 people with disabilities seeking a better life.
In 2017, an e-commerce association for the disabled was founded to support the vulnerable groups in starting up businesses. Xin started from scratch by joining the association and acquiring knowledge about the operation and marketing of e-commerce.
Under the auspices of the local government and the disabled persons' federation, he raised the initial funds and received technical guidance on opening an online shop, after which he was able to become self-reliant in tackling poverty.
"I used to be a heavy burden to my family, but now I am the breadwinner," said Xin. "Thanks to the country's poverty-relief initiative, I have banished poverty, both materially and mentally."
来源:Xinhua
编辑:谭婕倪