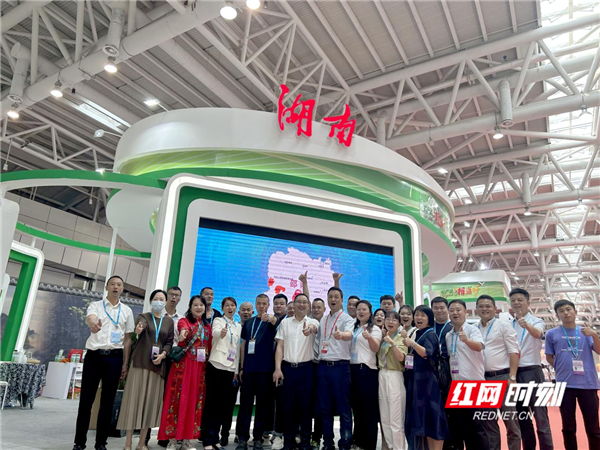 Members of the Hunan delegation pose for a group photo.
The sixth 21st Century Maritime Silk Road Exposition and the 25th Cross-Straits Fair for Economy and Trade were held at Fuzhou Strait International Conference and Exhibition Center between May 18 and 22. A delegation of high-quality and featured agricultural product companies organized by the Hunan Provincial Department of Agriculture and Rural Affairs attended the expo.
The theme of the expo is "expanding cooperation along the Maritime Silk Road, deepening cross-Straits integration, and sharing developing opportunities." The expo attracted many large wholesale market businesses and agricultural products processing trade enterprises. 
Twenty agricultural companies from Hunan Province displayed more than 100 famous, specialty, quality and new agricultural products including tea, camellia oil, honey, medicinal herbs, and aquatic products. A number of purchasers and Fuzhou residents visited the exhibition booth of the Hunan delegation for negotiation and purchasing. As first-time exhibitors, Hunan enterprises received recognition from guests and purchasers for their high-quality and featured agricultural products. It was learned that Hunan delegation achieved gratifying results, with on-site sales reaching more than 300,000 yuan and intent orders worth over 8 million yuan.
来源:enghunan.gov
编辑:谭婕倪