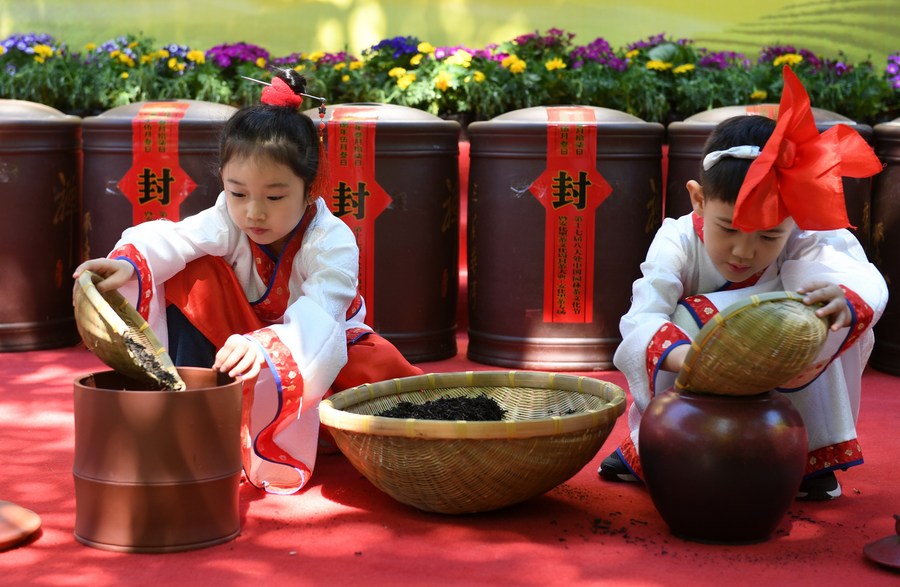 Two children in classical Chinese costumes put Anhua dark tea leaves into pottery urns during a traditional tea preservation ceremony at Xiangjie Temple in Badachu Park in Beijing, capital of China, May 3, 2018.(Xinhua/Li Jundong)
CHANGSHA, May 15 (Xinhua) -- With the corners of the pale yellow wrapping paper frayed and "Anhua Dark Tea Brick" strikingly printed both in traditional Chinese and Russian on the paper, the ancient dark tea bricks are the most attractive collection in the museum of Baishaxi tea plant in Anhua County, central China's Hunan Province.
"The bricks, made in the 1960s, were reserved samples of tea exported to the then Soviet Union. In fact, as early as the Qing Dynasty (1644-1911), Anhua dark tea had been introduced to the world through an ancient tea road," said Wang Kai, deputy general manager of Hunan Provincial Baishaxi Tea Industry Co., Ltd.
"In the previous century, dark tea from the Baishaxi tea plant was exported to the then Soviet Union. Many of our grandparents still have memories of Anhua dark tea," Grigory Potemkin, a Russian who visited the tea plant, wrote in a travelogue he shared with netizens.
There are five tea plants with a long history such as Baishaxi tea plant in Anhua, where dark tea production is an important industry.
Flourishing in the 17th century, an ancient tea road stretched about 13,000 km, linking the Wuyi Mountains in east China's Fujian Province with Russia's St. Petersburg. Hunan, located along the route, was the main source of tea exports.
In the past, tea merchants in Shanxi, Shaanxi and other places transported dark tea north and west to other countries in Eurasia, with the tea base located in the tea mountains in Anhua.
"The tea produced in Hunan, represented by Anhua dark tea, had large production and sales. Its international trade lasted a long time and had a far-reaching influence," said Jiang Yuedeng, executive vice president of the Hunan Tea Industry Association.
Wang said in those years, Anhua dark tea was shipped from Baishaxi wharf to the north, and then sold abroad by Shanxi merchants using the likes of camels and carriages as means of transportation. "Today, Hunan tea can go abroad via the China-Europe freight trains."
On Oct. 30, 2014, a freight train loaded with 3,000 tonnes of Hunan tea, porcelain, machinery accessories and other goods left Changsha, capital of Hunan, for Duisburg, Germany. This was Hunan's first direct international freight train service to Europe.
Data from the Hunan provincial government shows that Changsha saw the China-Europe freight train service deliver 510 twenty-foot equivalent unit (TEU) containers of tea worth 14.3 million U.S. dollars last year, with a total cargo weight of 5,315 tonnes. The tea was mainly exported to Russia, Belarus and Central Asian countries, and some also to other countries and regions.
"The launch of China-Europe freight trains has shortened the transportation time of goods," said He Benfei, deputy manager of the international trade department of China Tea (Hunan) Co., Ltd. "It takes 45 to 60 days to transport goods from Changsha to Moscow by sea, but only 25 to 30 days by China-Europe freight trains."
Yulia Lyutikova is the general manager of a Russian company that sells tea and coffee products. Her company has been selling tea for five years, and its products come from various tea producing regions in China.
"Tea is in great demand in the Russian market. In recent years, green tea, oolong tea, Pu'er tea, and jasmine tea are especially favored," Lyutikova said.
"This reminds us to constantly improve the quality of dark tea, innovate the production process, and make dark tea more 'fashionable,' so as to awaken the memory of the older generation of Russians for dark tea, and let more young people know and appreciate dark tea," Wang said.
来源:enghunan.gov
编辑:谭婕倪