日前,美国驻武汉总领事蓝如瑾一行来到了湘西凤凰古城。在秀美山水风光、浓郁民俗风情、璀璨迷人夜景之中,感受这个千年古镇的独特魅力。
Recently, Melissa Lan, the Consul General of the United States in Wuhan and her delegation visited the Fenghuang Ancient Town in Xiangxi. Feeling the unique charm of this millennium old town through the beautiful scenery, the rich folk culture, and the shining night scenery.
9日下午,在热烈铿锵的苗鼓声中,蓝如瑾一行先后参观游览了南华里游客服务中心、沈从文故居、雷雨田私立古城博物馆,了解凤凰民俗文化和名人大师文化,感受凤凰厚重的历史文化底蕴。
In the afternoon of the 9th, in the enthusiastic sound of Miao drums, Melissa Lan and her party visited the Nanhuali Visitor Service Center, the former residence of Shen Congwen, Lei Yu Tian Private Old Town Museum, to understand Fenghuang folk culture and celebrity master culture, and feel the rich historical and cultural heritage of Fenghuang Ancient Town.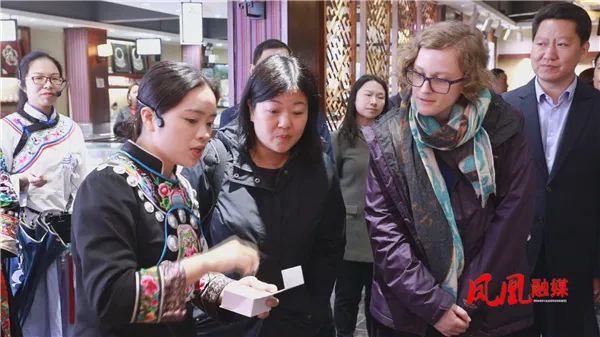 美国驻武汉总领事蓝如瑾一行来到了湘西凤凰古城。(图片来源:凤凰融媒)
凤凰古城街巷内,四处人流如织,烟火味十足。凤凰银饰加工、蜡染技艺等非遗文化以及独特的民族风情让蓝如瑾不时驻足拍照留念。
The streets and alleys of the Fenghuang Ancient Town are filled with people. Fenghuang silver processing, batik techniques, intangible heritage culture and unique ethnic customs make Melissa Lan stops to take photos from time to time.
夜幕初上,沱江河畔灯火璀璨,蓝如瑾一行泛舟顺流而下,领略流光溢彩的两岸美景,尽情享受浪漫十足的"夜凤凰"。
At the early night, the lights on the banks of the Tuo River were shining brightly, and Melissa Lan and her party rafted downstream, enjoying the beautiful scenery on both sides of the river, and appreciating the romantic "Night Phoenix".
感受到古城独特魅力的蓝如瑾表示,文化旅游是个很好的事情,凤凰的旅游真的做得很好,所以我很期待跟大家,特别是我们从美国来的朋友们,可以介绍一下我们在湖南、湖北、河南、江西,这个范围里好多好多的风景,可以过来去看看。
After feeling the unique charm of the ancient town, Melissa Lan said that cultural tourism is a great thing, and Fenghuang's tourism is really doing well. So she is looking forward to sharing with everyone, especially her friends from the United States, the beautiful scenic spots we have in Hunan, Hubei, Henan, and Jiangxi. Everyone should come and take a look.
来源:english.rednet
编辑:杨雁霞
本文为中国·十八洞英文版原创文章,转载请附上原文出处链接和本声明。
本文链接:http://english.18dongcun.cn/content/646749/56/12645559.html