5月20日上午,在湖南湘西州花垣县十八洞村,一场活力满满的运动会在"云雾中的苗寨"举行。这是十八洞村第一次举行半程马拉松比赛,同样从起点出发的还有幸福甜蜜跑参赛者。一共有来自全国各地的1200多名跑者相聚在花垣县十八洞村,用奔跑的姿态感受精准扶贫"首倡之地"的发展变化,同时也见证100多名单身青年的浪漫爱情起航。
On the morning of May 20, an energetic sports meet was held at the "Foggy Miao Village" in the Shibadong Village of Huayuan County, Xiangxi Prefecture, Hunan Province. This was the first half marathon held in Shibadong Village, also starting from the starting point were the participants of the Happy Sweet Run. In total, more than 1200 runners from all over the country gathered in the village to experience the development of the "birthplace" of targeted poverty alleviation and to witness the romantic love of 100 single young people.
半程马拉松赛道从十八洞村梨子寨出发,途经新村部、游客中心、飞虫寨、319国道、十八洞村口、张刀村、竹子寨等,全长约21公里,这其中,选手们穿行的公路——花垣县Y021线不仅是交通运输部评选出来的"十大最美农村路",同时也是脱贫路、生态景观路,更是一条助推乡村振兴、提升沿线群众幸福感的"美好生活路"。幸福甜蜜跑共5.20公里,在赛道上,大家相互扶持,互相鼓励,共同跑完了甜蜜之旅。
The Half Marathon starts from Lizizhai, Shibatong Village, passing through New village headquarters, Tourist Center, Feichongzhai, National Highway 319, Shibadong Village Entrance, Zhangdao Village, Zhuzizhai. The total length is about 21 kilometers, among which, the road that the runners travel through --- Huayuan County Y021 line is not only the "Top Ten Beautiful Rural Roads" selected by the Ministry of Transportation, but also a road to rid of poverty, a ecological landscape road, and a road to promote rural revitalization and improve the happiness of people along the road. The Happy Sweet Run was 5.20 kilometers long. On the course, everyone supported each other and encouraged each other to run through the sweet journey together.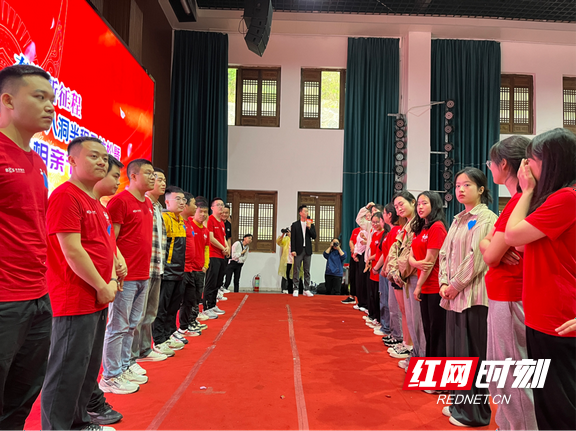 跑道上充满幸福与甜蜜,十八洞村村部的会议厅里也是浪漫满分。100多位单身青年,通过三分钟约会、终极配对、集体放飞许愿气球等互动环节增进对彼此的了解。据介绍,十八洞相亲会已经成功举办7届,促成了100多对青年男女牵手成功,其中仅十八洞村就有30多位青年成功脱单。
The runway is full of happiness and sweetness, and the meeting hall in the village headquarters of Shibadong Village is also full of romance. More than 100 single young people, through the three-minute date, the ultimate match, the collective release of wishing balloons and other interactive links to enhance understanding of each other. According to the introduction, the Shibadong Matchmaking Event has been successfully held for seven times, which has led to more than 100 pairs of young men and women be in love successfully, among which more than 30 young people are from Shibadong Village.
来源:english.rednet
编辑:徐丹
本文为中国·十八洞英文版原创文章,转载请附上原文出处链接和本声明。
本文链接:http://english.18dongcun.cn/content/646749/66/12678063.html